Cloud computing solutions offer a wide range of benefits to businesses, from lowered costs to better disaster recovery. However, it is difficult to fully understand the services of cloud computing, such as SaaS, PaaS, IaaS. CodLUCK will explain these services to help you have an overview of cloud computing. We will compare the characteristics of each type and their application to each business.
Cloud Computing : Features and applications of 3 types of services
1. IaaS (Infrastructure as a Service)
Infrastructure as a Service (IaaS) are computing resources capable for accessing and monitoring computers, storage, networking, etc. Buying extra hardware is not needed. The client leases the hardware from the IaaS vendor.
This type of service is on the rise due to the explosion of artificial intelligence (AI), business analytics (BI), Internet of Things (IoT) and other cloud-based products – all of them require large amounts of storage space and computing power.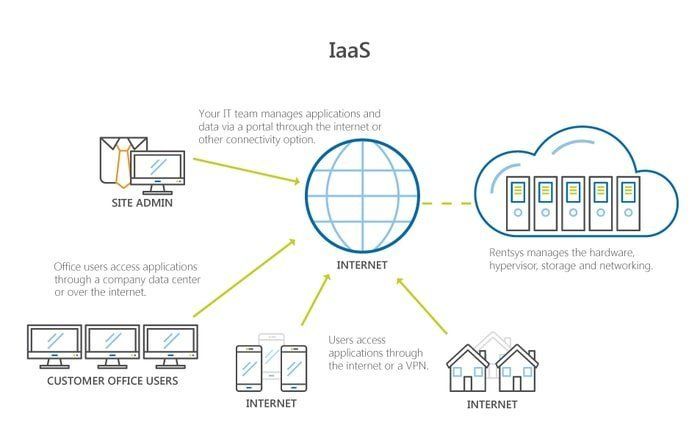 Features of IaaS include:
Providing resources as a service: including servers, network equipment, memory, CPU, hard disk space, data center equipment.
Allowing server resource expansion.
No actual hardware problems or system upgrade costs.
Multiple tenants can share the same resource.
Costs vary depending on actual use.
For startups and small companies, IaaS is an alternative for purchasing and creating hardware and software. This saves time and money. For large and growing companies, IaaS is beneficial because these companies have to switch to specific hardware and software depending on their current needs.
2. PaaS (Platform as a Service)
Platform As A Service (PAAS) is a cloud delivery model for application composed of services managed by the third party. It provides elastic scaling of your application in which it allows developers to build application and services over the internet and deployment include public, private and hybrid.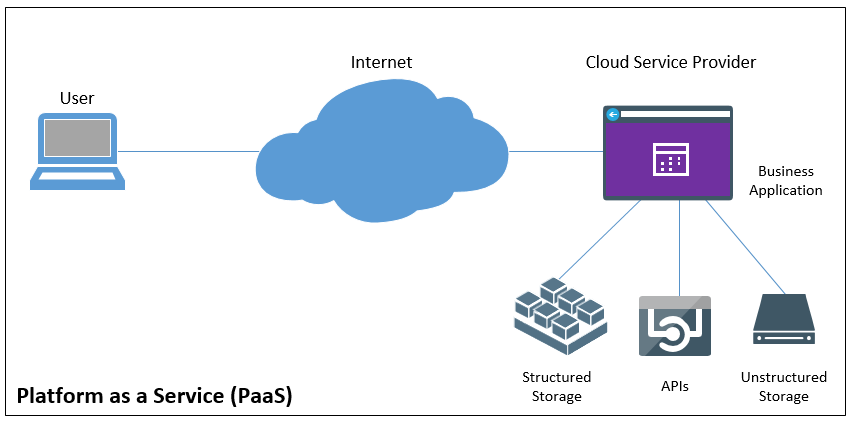 Features of PaaS include:
Initialization tools with a web-based interface.
Using to develop, test, deploy and operate the application as an integrated development environment
Multiple users can access an application at the same time.
Web services and database services are integrated
With PaaS you can streamline the workflows in development. Do you have customized applications? PaaS delivers a great platform for customized applications with scaling possibilities. With PaaS you can have a platform on a tight budget and you can reduce your costs. It also enables rapid app development and deployment.
3. SaaS (Software as a Service)
Software As A Service (SAAS) allows user to run existing online application and it is a model software that deployed as a hosting service and accessed over Output Rephrased/Re-written Text the internet or software delivery model during which software. Its associated data are hosted centrally and accessed using their client, usually an online browser over the web. SAAS services are used for the development and deployment of modern application.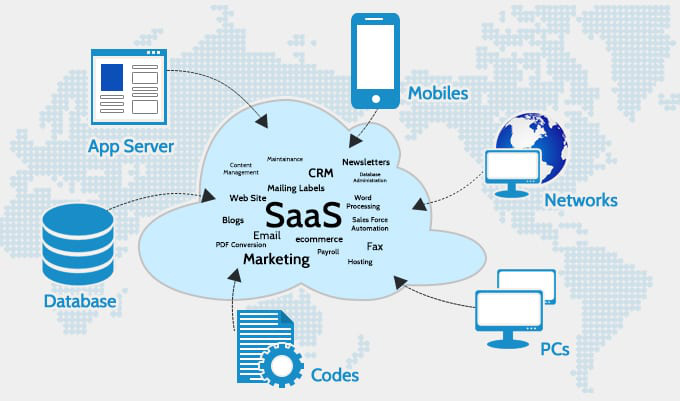 Vendors will manage all the technical issues, such as data, middleware, servers and storage, allowing businesses to manage and support online. As such, this solution is commonly used in many homes and businesses around the world.
Refer to the Cost of ERP system (enterprise resource planning) using SaaS here.
Features of SaaS include:
Directly using in the Internet.
Datas can be saved in the Internet.
Data can be accessed without having fixed devices like desktop, smartphone or tablet etc.
Users have to update hardware and software.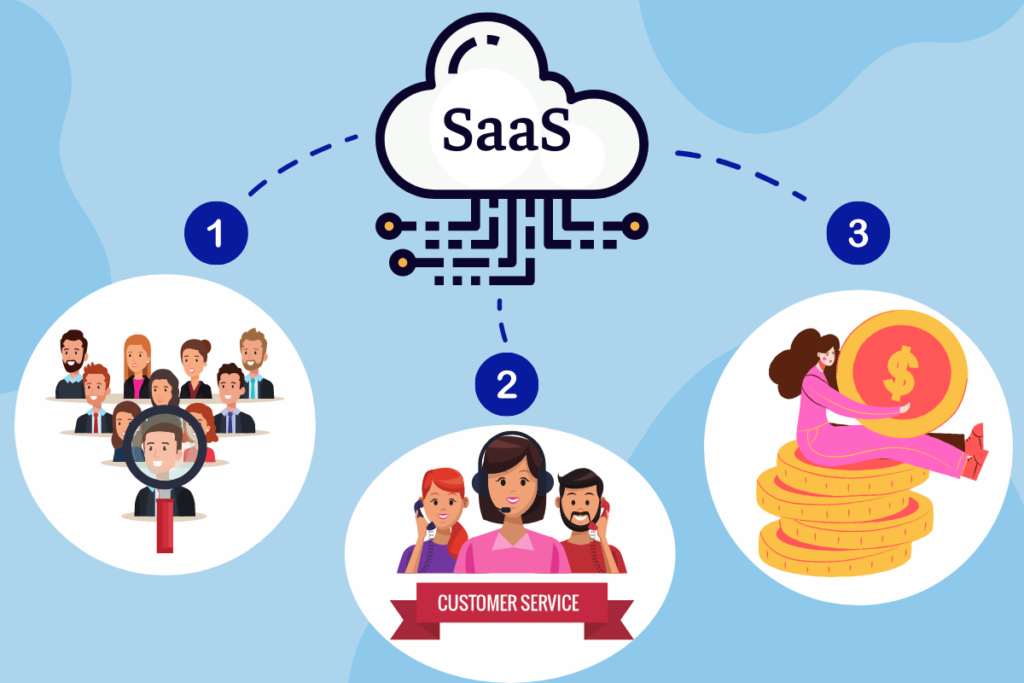 SaaS is an attractive service for 3 areas: human resources, customer service, and finance. It includes applications for human resource management (Human Capital Management – HCM), customer relationship management (Customer Relationship Management – CRM), financial applications, ..
Cloud Computing Technology: Saas vs. Paas vs. Iaas
The main differences between the IaaS, PaaS, and SaaS models lie in control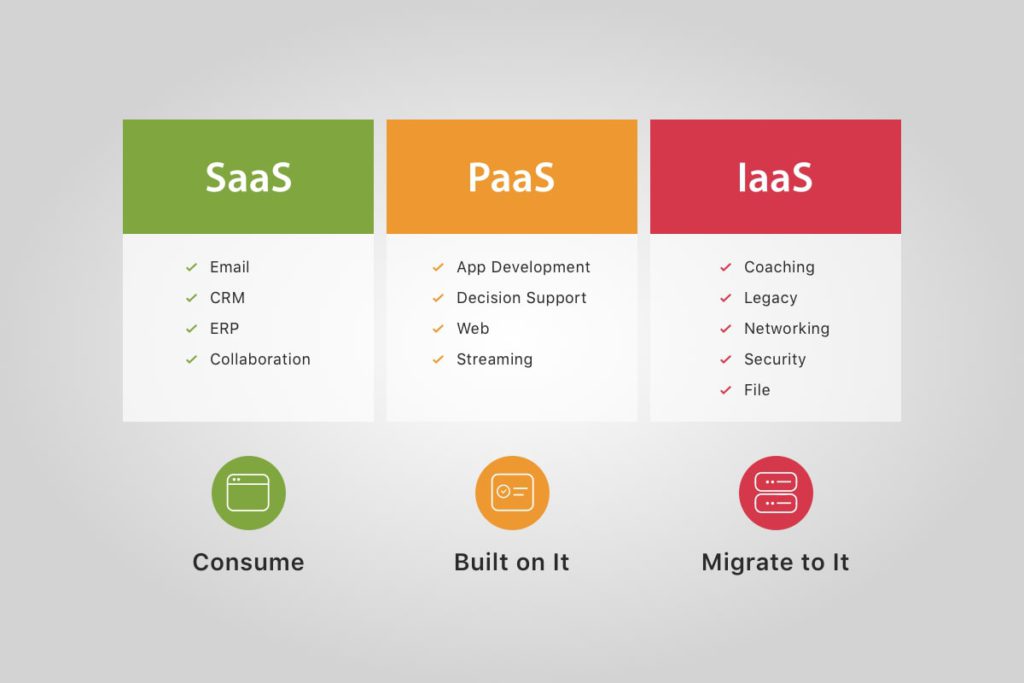 Let's go over a quick definition for each of these services.
IaaS products allow organizations to manage their business resources — such as their network, servers, and data storage — on the cloud.
PaaS (Platform as a Service): PaaS products allow businesses and developers to host, build, and deploy consumer-facing apps.
SaaS (Software as a Service): By far the most common cloud service, SaaS products offer both consumers and businesses cloud-based tools and applications for everyday use.
If we compare these 3 types of services with transports, we can easily understand them: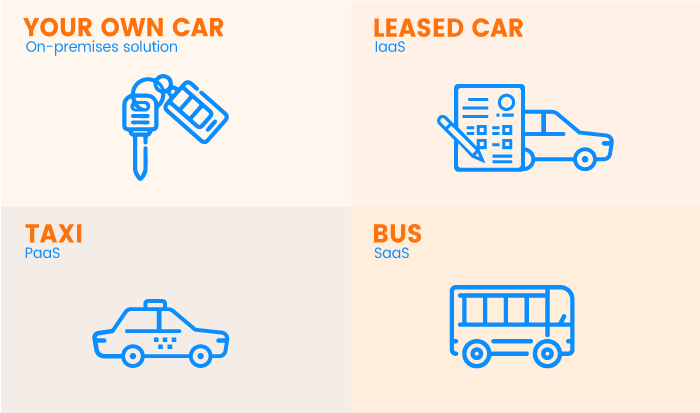 IaaS is similar to renting a car. When you rent a car, you choose what to do with it. However, the car does not belong to you. Moreover, if you feel like an upgrade or a change of car, you can do so very easily.

PaaS is similar to taking a taxi or an Uber ride

. You don't drive the vehicle yourself but, you still need to navigate and instruct the driver on what to do..
SaaS is similar to taking a bus. Buses have assigned routes and all you have to do is hop into the vehicle and take the ride, knowing that you will reach your final destination because the driver knows what to do.
Although the bus seems like the most convenient, taking the bus does not take me from home directly to work. And this applies to the SaaS model too. It is convenient, you can easily sit back and relax and somebody finishes the work for you but it does not work for everyone.
Common Examples
Common examples of SaaS, PaaS, & IaaS as below: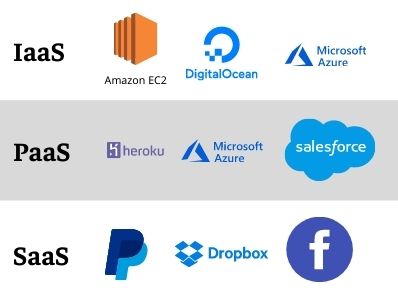 For a free consultation to find out what is best for your organisation, click here, or email CodLUCK—the business IT experts on info@codluck.com
Source:
https://www.linkedin.com/pulse/cloud-models-iaas-vs-paas-saas-clara-choo/